Planning events at The Catalyst in Newcastle
June 15th 2023
Looking for the perfect venue to host your next event in Newcastle? Well, you've landed in the right place. The Catalyst is an award-winning building with a range of state-of-the-art event spaces and meeting rooms providing an exceptional event experience for you and your guests. 
Whether you're hosting a business meeting, conference, workshop or exhibition, our in-house event coordinator, Molly Calveley, will help you identify the perfect space for your event and provide as much or as little support as you need. 
We know how time-consuming planning a successful event can be, which is why we offer a comprehensive service, from providing catering options and giving travel advice for your delegates, to full audio-visual support and event management. 
Molly said: "We have a wide variety of spaces available, ranging from huddle rooms that can seat six delegates, to our state-of-the-art TED Talk style Theatre which can seat 173 delegates – each seat is also fitted with a USB/USB-C charger which is always a huge hit with attendees.
"We have a dedicated and enthusiastic team on hand to assist with all enquires and interest, providing as much or as little support as you need.
"It is a really exciting time for events, and we love to see them come to life at The Catalyst. I am incredibly proud of the team and our unique venue, and I love being able to support businesses from a range of sectors to coordinate events."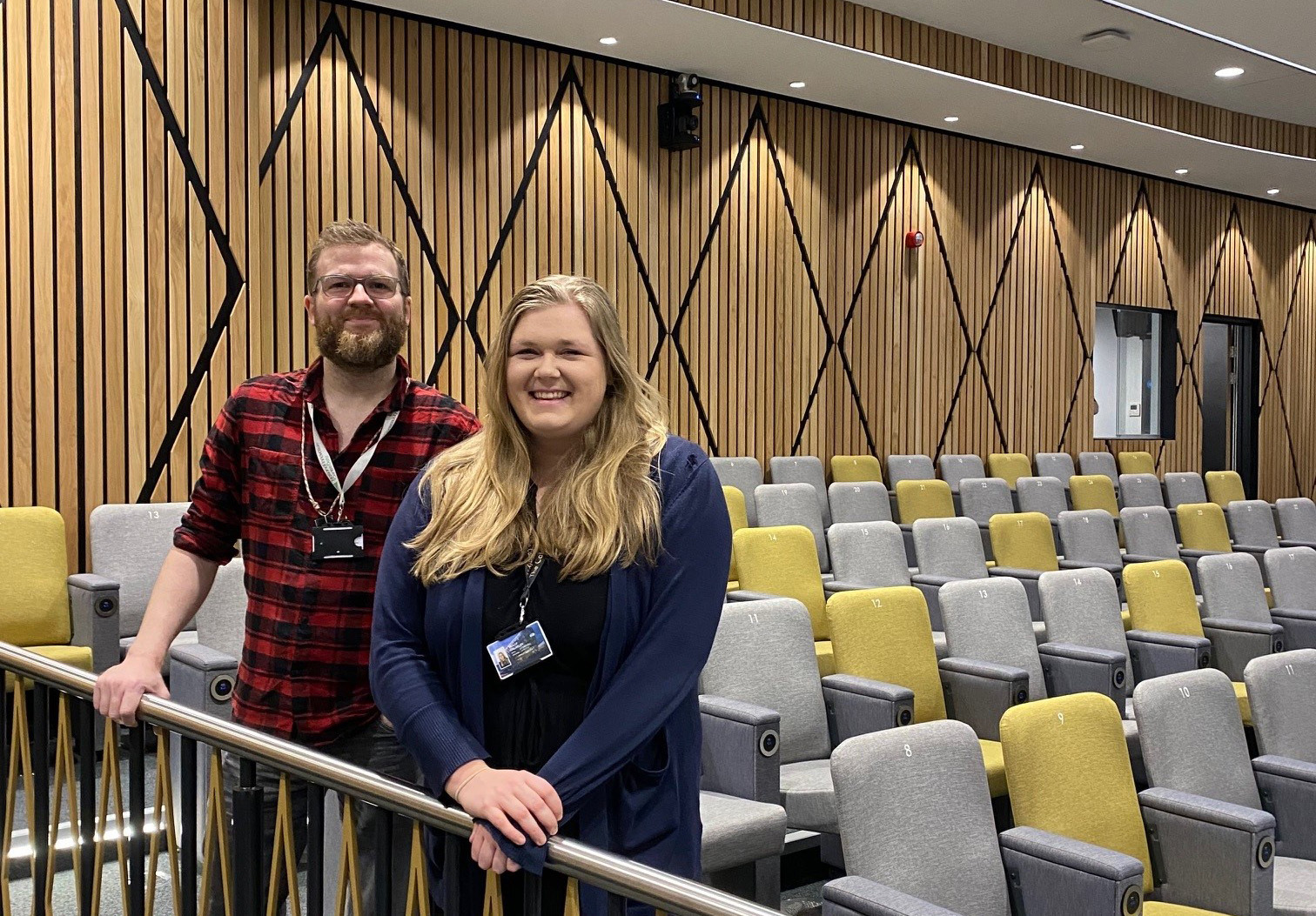 Our dynamic event spaces 
We have nine spaces available to hire at The Catalyst, all including the highest spec audio-visual technology including wireless presentation systems and streaming boxes with PTZ camera solutions. Stuart Campbell, our in-house AV Technician, will also work with you to ensure all of the technology is set up and ready to use, as well as providing on the day support.
Stuart said: "What is really unique about the venue is the ability to deliver TED style talks or classic lecture theatre style teaching using the most up to date AV and LED lighting. With everything from lapel to throwable mics, the equipment can handle an in person event and support your hybrid attendees." 
Food and drink 
We offer a number of catering options when hosting an event at The Catalyst, and you have the flexibility of using a catering company of your choice. We also have an onsite café which is open Monday to Friday, if your guests want to enjoy a coffee and sweet treat or use the area as a breakout space. 
Located in Newcastle city centre 
The Catalyst is located in the heart of Newcastle Helix, an innovation district dedicated to helping us all live better lives. As well as having paid parking nearby, our building is only a nine-minute walk from Newcastle Central Station, a seven-minute walk from St James Metro Station, and we have secure bike storage available onsite.  
So, if you're planning a meeting or event in Newcastle and want to find out more about the spaces we have available, get in touch to speak with our centre team or download our event and meeting room brochure today! 
More Blog Articles
September 27th 2022
How The Catalyst is encouraging active travel
Active travel is one of the most effective ways to promote routine physical activity, and here at The Catalyst, we have stepped our facilities up a gear to improve the experience of cycling to work.
February 21st 2022
GlycanAge announces new test to diagnose menopause
A Newcastle-based life science company has announced it is designing a new at-home blood test, which has the potential to diagnose menopause and perimenopause.
January 24th 2022
onHand opens door to The Catalyst
A DIGITAL business that connects companies and their teams with thousands of volunteering opportunities across the UK is expanding in Newcastle after launching a base in The Catalyst.