Icons from across the globe celebrate healthy ageing and share their stories in a new hybrid exhibit on Newcastle Helix
October 2nd 2020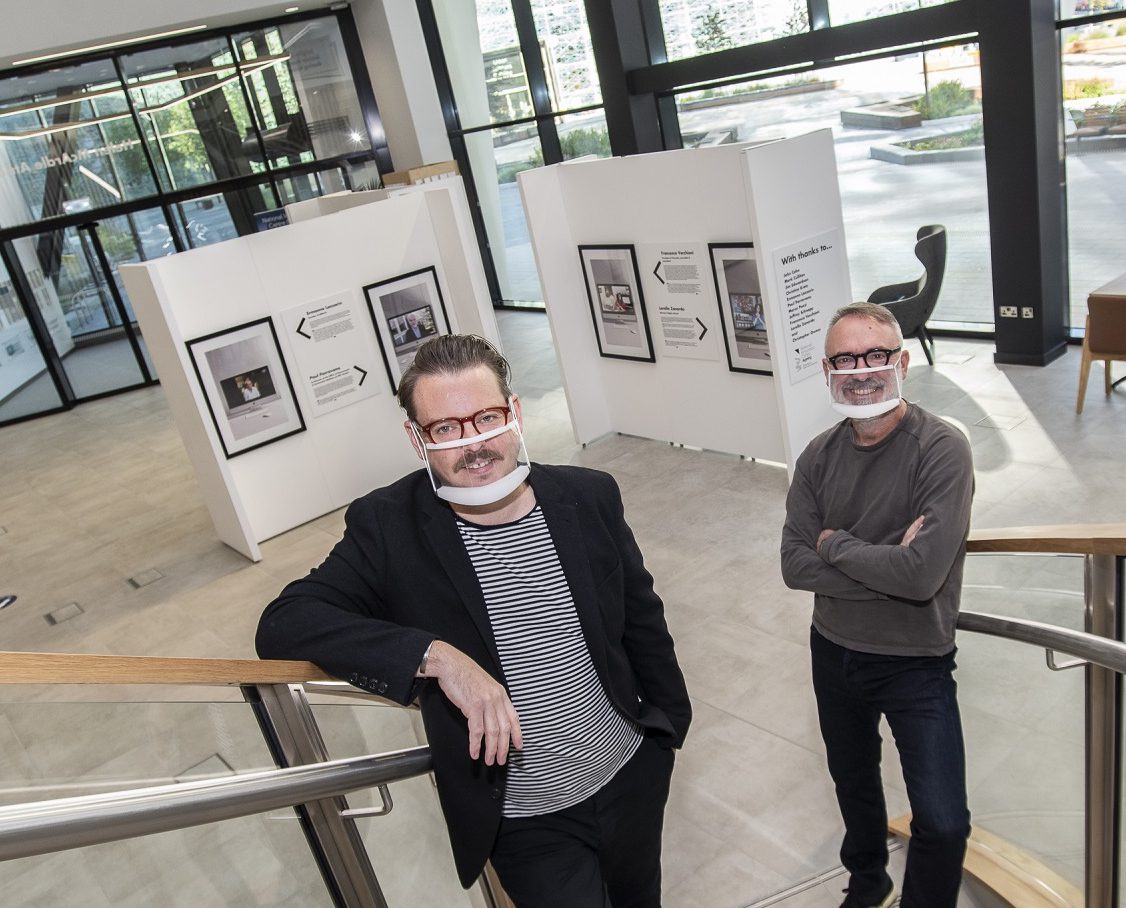 On the 1st October the United Nation's International Day of Older Persons a new exhibition has launched on Newcastle Helix, celebrating human experiences and a vision for longer and healthier lives.
Lead by the National Innovation Centre for Ageing (NICA) and hosted in the Catalyst building on Newcastle Helix, this brand new virtual and socially-distanced physical exhibit features people from diverse cultural and professional backgrounds who wanted to share their ageing intelligence and experiences with the world.
Based at Newcastle University, NICA is the UK home of Ageing Intelligence®, bringing together data driven insight and human experiences to help bring new products, business models and services to market. This exhibition celebrates this, involving international ambassadors to promote a vision to further facilitate a society that is better equipped to meet the opportunities and challenges of an ageing population, helping to creating a world in which we all live better, for longer.
For the exhibit, Newcastle-based photographer Christopher Owens took pictures of ten inspirational professionals and icons from across the globe. He had the challenge of capturing these portraits during lockdown, meaning he couldn't physically meet his subjects.
Lockdown portraits included Jim Edwardson, Founding Director of the Institute for Ageing and Health at Newcastle University alongside Christine Kretz, from the International Space Station in the US,  Ermanno Lazzarin, style icon and founder of a menswear label in Milan,  Jeffrey Schnapp a Faculty Director at Harvard and Co-founder of Piaggio Fast Forward,  John Cohn, IBM Fellow in MIT-IBM Watson AI Research Group, Lorella Zanardo, Women's Rights Activist and Author, film director Marco Pozzi and Paul Parravano from MIT in Boston.
Christopher Owens who specialises in portraiture for editorial and commercial briefs said:
"I always set out to capture the character and personality of my subjects to produce honest and truthful portraits. Producing this work for NICA has been a wonderful experience which will be remembered as a moment tied to this time of uncertainty.
"The opportunity to spend the morning making portraits in Milan and then Boston and hearing these inspirational stories first-hand will be a lasting memory and positive experience at a challenging time for the creative industry. Regardless of poor internet connections, language barriers and the challenge of creative direction through a screen, I have been able to produce meaningful portraits that reflect the spirit, knowledge, and insight of all contributors who wanted to share their life experiences. This process has confirmed my belief that a portrait is not simply made in a camera but on either side of it."
The opening is timed to celebrate the UN's International Day of Older Persons and the beginning a Decade of Healthy Ageing (2020-2030). The UN's global strategy aims to promote well-being of all at all ages. In 2020 they look to raise awareness of the strategic objectives for a 'Decade of Healthy Ageing' and increase the understanding of the impact of COVID-19 on older people.
Endorsed by the 73rd World Health Assembly, this decade of concerted global action on Healthy Ageing is an opportunity to bring together governments, civil society, international agencies, professionals, academia, the media, and the private sector for ten years of collaborative action to improve the lives of older people, their families, and the communities in which they live.
Professor Nicola Palmarini, Director of the UK's National Innovation Centre for Ageing said:
"This is a unique way to introduce our Ageing Intelligence Ambassadors, who will share their life experiences with you. These portraits are not only a way to get to know our subjects, their personality and character, they reflect a point in history that we will all remember for years to come.
"Our photographer has produced striking, engaging and insightful images that all tell a different story. A creative way under the restrictions of lockdown to bring experiences to life and gather insight from a diverse group of inspirational people.  They and their stories don't want to teach anything or represent any role model. They simply chose to tell who they are to help us show how much richness there is in each of us. Ten profiles of people like each one of us: extraordinary and unique, whatever the stage of life we are in.
"People from all over the world can virtually view this new exhibition from their own homes and workplaces, seeing Newcastle as the 'home' of Ageing Intelligence®, Intelligence can help make the world a better place and we are delighted to share this insight with you.
"Our journey started well before lockdown, looking to harness the intelligence of people through engagement and we hope these human experiences inspire you to play your part in supporting healthy and independent ageing.
"The emergence of COVID-19 has had a huge impact on every single person presenting many social and economic challenges, however we strongly believe that intelligence and human experiences will help us to shape a brighter future for all."
The physical exhibition will be in the Catalyst building until December 2020. In the meantime, during local covid restrictions, everyone can view this new exhibition remotely by visiting https://www.yumpu.com/s/eZuvRT9JnhSLMfQz
For more information about NICA visit https://www.uknica.co.uk/ or about photographer Christopher Owens visit christopherjamesowens.com 
More
October 24th 2023
Welcome, Lauren!
We're delighted to introduce our new Assistant Centre Manager, Lauren Neill, who joins The Catalyst centre team with a diverse hospitality background.
September 22nd 2023
National Innovation Centre to host first data science conference in Newcastle
The National Innovation Centre for Data (NICD) is set to host its first-ever conference in Newcastle later this month, exploring innovations in data science. The two-day Data Innovation Showcase will run from 27 – 28 September at The Catalyst, a state-of-the-art work and event space in the heart of Newcastle, […]
August 25th 2023
VR simulation company VRAI joins The Catalyst
Virtual reality (VR) simulation training company VRAI has moved to a new base on Newcastle Helix in The Catalyst.