Can a robot help a healthy lifestyle? Newcastle puts it to the test
March 24th 2021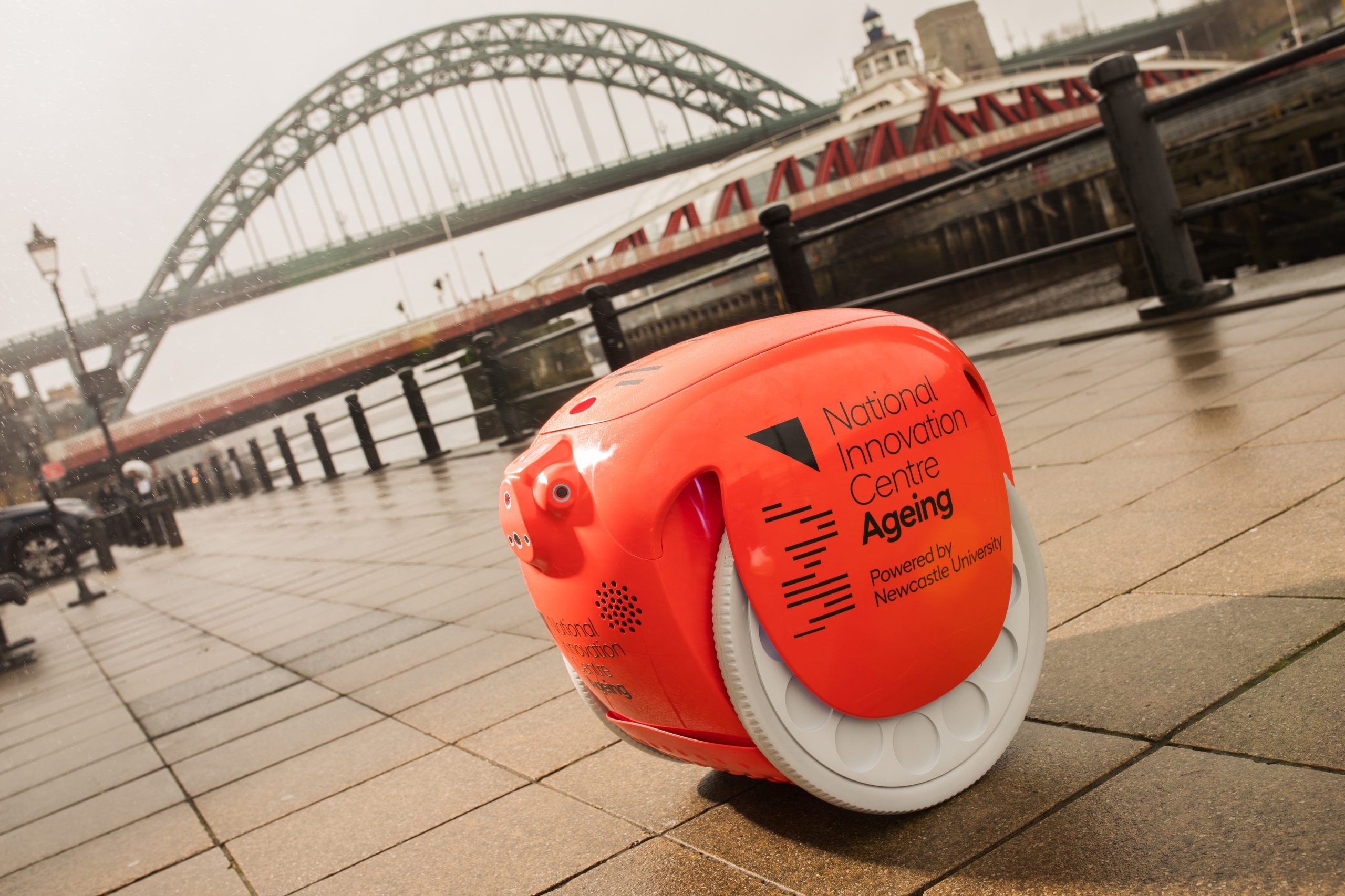 Can a robot help a healthy lifestyle? Newcastle puts it to the test
The UK's National Innovation Centre for Ageing (NICA) is the first in the world to evaluate "gita robots", a cargo-carrying robot which follows you round, to assess the impact on the mobility of older adults. 
The gita robot pairs with a person, freeing their hands, and follows them as they walk throughout their day carrying up to 18 kg of cargo, moving up to six miles per hour for up to four hours of continuous use. It communicates with the user through sound, light and touch, and with 360 vision, gita safely follows with sensors that see its user and its environment.
Gita® is a first-of-its-kind cargo-carrying following robot made by Boston-based robotics company Piaggio Fast Forward (PFF) and is backed by Piaggio Group, the manufacturer of the iconic Vespa scooters.
The gita robots are being tested by the team at NICA on Newcastle Helix, where they will study human experiences and interactions with the robots and explore user acceptance.
This citizen-led project will examine how users adopt this 'tech companion' and evaluate how it can help mitigate loneliness and isolation, boost healthy behaviour by encouraging more walking and foster more independent and sustainable living. For example, it will be tested to see if it can be used by older adults to shop locally and help with heavy loads.
It is hoped that using the gita robot will encourage older people to walk more, giving them more confidence to go out into their communities by acting as a responsive companion and making them feel more connected with the outside world.
Future uses and considerations will play a vital part of this research, for example in light of COVID-19, this tech could have the potential to help people keep a safe distance. The end goal is to understand how to best adopt these devices in cities like Newcastle, supporting people to remain healthy, active, independent, and connected in later life.
PFF was founded to create lifestyle-transforming mobility solutions, empowering people of all ages to interact and live independently. The gita robot was launched to consumers in the US market at the end of 2019.
This smart and futuristic tech is brought to the city by NICA who are based within Newcastle University. They are the UK home of Ageing Intelligence®, which brings together data driven insight and human experiences to help bring new products, business models and services to market. This trial is part of their work to help facilitate a society that is better equipped to meet the opportunities and challenges of an ageing population, helping to create a world in which we can all live smarter and healthier lives.
Professor Nicola Palmarini, Director of the UK's National Innovation Centre for Ageing said:
"This exciting development could be a door to freedom for so many of our older people who need extra support but want their independence.
"At NICA we're ideally placed to take the gitas into Newcastle and this is one of the first cities in the world where this device will be applied to real-case scenarios involving older adults. This is crucial to our approach: real interactions, with real people, tested in a real context can help to gain those qualitative, more than quantitative insights, which are the key to helping other companies develop similar concepts based on innovative and disruptive thinking to enhance urban mobility that meets human needs.
"Older people tend to travel and leave home less frequently and while there has been much focus recently on electric bikes or self-driven vehicles, we believe gita could encourage a more practical, sustainable and healthy mode of transport – walking.
"This project is about exploring if and how these technologies will be accepted by older adults and their stakeholders and how they can be part of our future urban landscape, be accessible to all and support healthy and independent living. This is just one of many projects and unique selling points that make Newcastle the epicentre of longevity innovation."
Councillor Ged Bell, Cabinet Member for Employment and Culture at Newcastle City Council, added:
"Our city has a history of innovation and the early adoption and testing of new technologies like this, will give us an insight into what our city could look like in the not-too-distant future. It's hard to imagine our city as a place where robots and people share the same space, from tackling social isolation to creating more walkable communities the impact on those who live and work in our city could be profound. This trial will play a vital part in helping shape the future of mobility not only in Newcastle but across the UK.
"We want to create an inclusive, sustainable, and fair society where people of all ages can access products and services that help them to live well. Through national facilities like NICA, world-leading research expertise, tech strengths and science we are leading the way in ageing related innovation, positioning our city as global leaders in this field.
"We are so proud to be the first city outside of the US to be a physical test bed for this new technology, just one of the ways we work toward creating a better future for our people."
Jeffrey Schnapp, Co-Founder and Chief Visionary Officer, Piaggio Fast Forward, commented:
"When we started Piaggio Fast Forward, we began with an urban point of view. We aimed to design products that move the way people move and develop technology to bring robotic mobility to sidewalks and pedestrian spaces. Our robots follow people, and they help people walk further, faster, and more frequently. Our goal is to make the world a more pedestrian friendly space with machines that walk with us rather than replace us. The gita robot brings people together, gives them more opportunities to connect, and makes local living easier, smarter, and more fun. We are eager to see how the community members of Newcastle use gita and watch it change their way of navigating their daily routines on foot."
For more information about NICA visit https://www.uknica.co.uk/
Photo caption: A gita robot on Newcastle's quayside in front of the Tyne Bridge.
Photo credit: Christopher Owens Photography
More
October 24th 2023
Welcome, Lauren!
We're delighted to introduce our new Assistant Centre Manager, Lauren Neill, who joins The Catalyst centre team with a diverse hospitality background.
September 22nd 2023
National Innovation Centre to host first data science conference in Newcastle
The National Innovation Centre for Data (NICD) is set to host its first-ever conference in Newcastle later this month, exploring innovations in data science. The two-day Data Innovation Showcase will run from 27 – 28 September at The Catalyst, a state-of-the-art work and event space in the heart of Newcastle, […]
August 25th 2023
VR simulation company VRAI joins The Catalyst
Virtual reality (VR) simulation training company VRAI has moved to a new base on Newcastle Helix in The Catalyst.