Tancream on at The Catalyst
A DRAGON'S den slaying duo are making Newcastle's Catalyst home, tapping into university support to help grow their business
April 29th 2021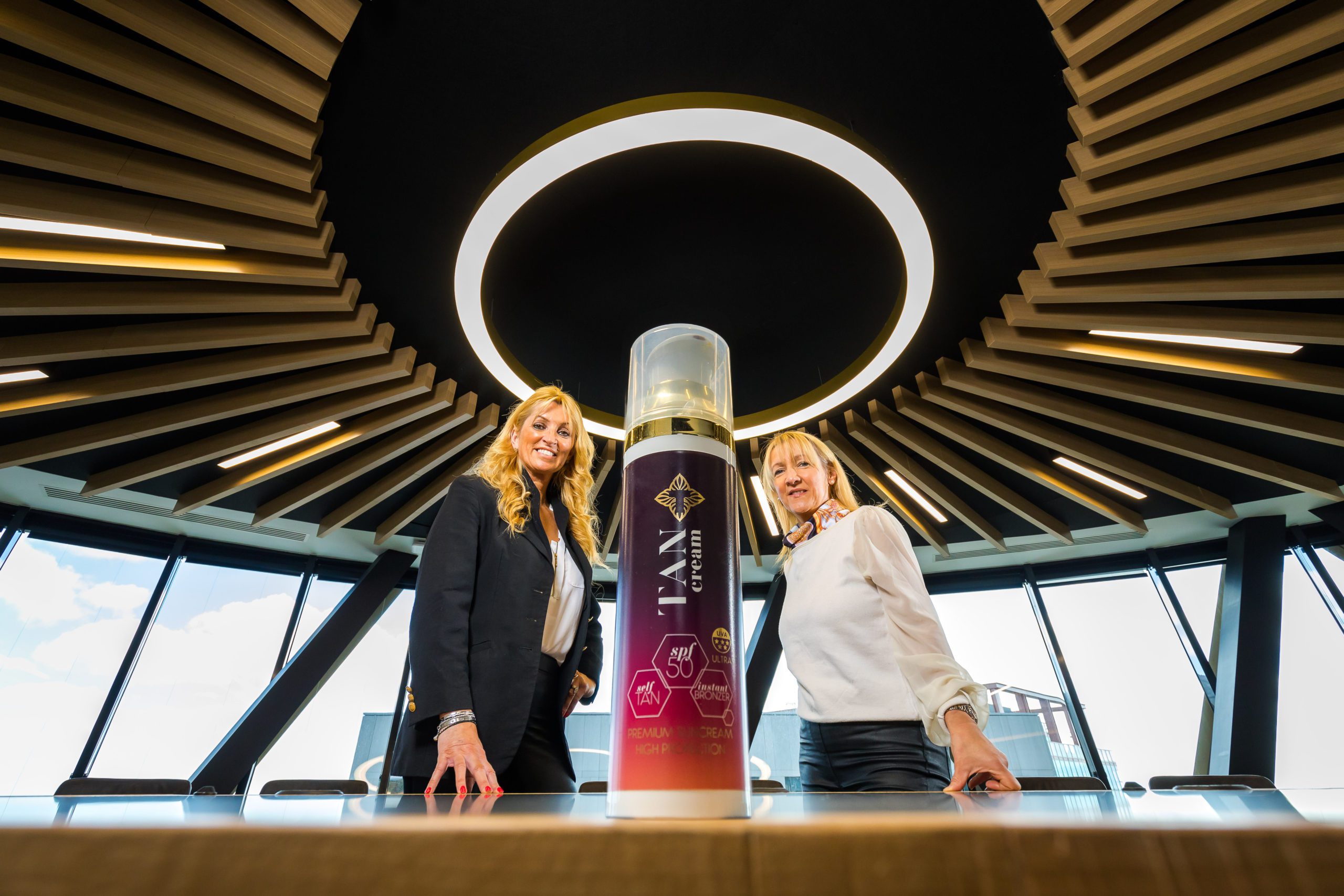 A DRAGON'S den slaying duo are making Newcastle's Catalyst home, tapping into university support to help grow their business. 
Gillian Robson and Katy Foxcroft - whose company Tancream brings together sun protection and self-tan in one uniquely formulated product - have signed up to take a virtual office space at The Catalyst, Newcastle Helix, a £50m building that is home to the National Innovation Centre for Ageing and the National Innovation Centre for Data.
The North Yorkshire businesswomen - who were inspired to set up Tancream following Gillian's battle with skin cancer - are now tapping into the building's world-class facilities and making use of The Catalyst's close ties with Newcastle University. Already, Tancream has secured the support of PHD student Jess Moor, who will work on a research project over the next year, helping Tancream build powerful evidence of its skin enhancing properties.
Katy, cofounder of Tancream, which was set up in 2017, said: "We created Tancream with the support of one of the most renowned and respected skincare professionals, Dr Jack Ferguson, who has developed a global reputation for his work in sun protection and anti-ageing, along with his colleague skincare formulation specialist Jo Warren.
"We wanted to deliver a product that would give people the healthy glow of a natural-looking tan, while also providing protection against the damaging effects of the sun and with skin enhancing properties, in one product.  Bringing those qualities together in one cream is not easy, so it's taken hard work and total determination to get us to where we are today, with a product that does not compromise on anything – from the way it feels on the skin, to the colour, and the positive impact it has on the condition of the skin when it's used.  It's everything your skin needs in one product and with the support of Jess and the move to The Catalyst, which will help us access more support, we can get more in-depth evidence of its unique benefits."
Katy, who has a background in business development, product development, sales and marketing, worked alongside Gillian to develop the unique Tancream product, which combines SPF50 and Ultra Five Star High Sun Protection with a gradual developing tan.  The cream contains a colour corrector to even out skin tone, as well as being a non-streaking, fragrance and paraben free tan, with a tint to help with even application.
The business has ambitions to grow its presence in the UK market, as well as the US and South Africa, where it holds patents.  Australia and New Zealand are also on the hit-list of places where skin cancer is on the rise, and the duo – who were successful in gaining £75,000 investment from Dragon's Den stars Sara Davies, and Touker Suleyman in 2019 – are keen to establish a toe-hold in those markets.
"We have been uncompromising, and that's allowed us to develop a product that ticks every box," said Gillian, who continues to have regular dermatology appointments and has had 14 lesions removed from her skin in the short time since she launched Tancream.
"I loved the sun when I was younger, but there just wasn't the awareness that there is now about the damage it does – from the risk of cancer to the ageing effects it has on our skin.
"There's nothing else like Tancream on the market, and I am determined that we use our focus on protection to educate people about the risk of sun exposure.  The more people who understand this, the more people we prevent from needlessly damaging and aging their skin when they can use tan from a bottle to achieve the same look.
She added: "I am so passionate about the difference Tancream can make.  Having a tan was – and still is – something I want, but having been through cancer,  I know that the safest tan is a fake tan, and especially one that protects your skin from the sun.  I'm really proud to have developed a product with Katy, and Dr Ferguson and Jo Warren, that provides that."
As part of the Catalyst community, Tancare will join a growing cluster of businesses that are focused on innovation around skincare and anti-ageing, gaining the support of Newcastle University as they go for growth.
Tancream is the latest in a long line of businesses to make The Catalyst its home.  The state-of-the-art building is in the heart of Newcastle's Helix development, a vibrant cluster that stands in the shadow of St James' Park.  The building is managed by Oxford Innovation, the UK's leading operator of innovation centres, and provides a hub for entrepreneurs and researchers in data to collaborate and create new companies, services and products.  The Catalyst creates a supportive ecosystem for firms to grow and develop new ideas, products and services, alongside world-leading creative thinkers.
Ryan Blake, Assistant Centre Manager at The Catalyst, said: "We're delighted to have Tancream join our growing community of exciting businesses at The Catalyst.
"Gillian and Katy have an incredible story.  It is a business borne out of adversity, but one that they are determined to see succeed, and I have no doubt that – with the added connections they will gain through our collaborative community, they will continue to go from strength to strength."
To find out more about Tancream visit www.tancream.co.uk or to learn about The Catalyst, visit www.thecatalystnewcastle.co.uk.
More
October 24th 2023
Welcome, Lauren!
We're delighted to introduce our new Assistant Centre Manager, Lauren Neill, who joins The Catalyst centre team with a diverse hospitality background.
September 22nd 2023
National Innovation Centre to host first data science conference in Newcastle
The National Innovation Centre for Data (NICD) is set to host its first-ever conference in Newcastle later this month, exploring innovations in data science. The two-day Data Innovation Showcase will run from 27 – 28 September at The Catalyst, a state-of-the-art work and event space in the heart of Newcastle, […]
August 25th 2023
VR simulation company VRAI joins The Catalyst
Virtual reality (VR) simulation training company VRAI has moved to a new base on Newcastle Helix in The Catalyst.