New assistant centre manager at The Catalyst
June 28th 2023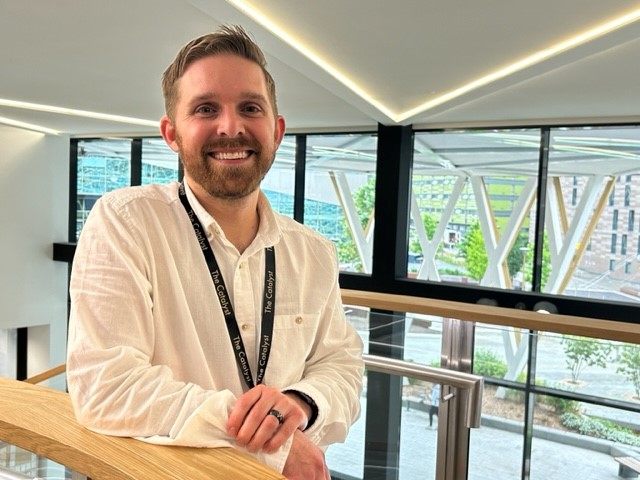 A hospitality specialist has swapped Orlando for Newcastle after taking up a new role at The Catalyst innovation centre. 
Andy Kahn has joined The Catalyst team as assistant centre manager – which is employed by Oxford Innovation, the UK's leading operator of innovation centres – having just moved across the Atlantic with his wife from Orlando, Florida, where he worked for Accenture supporting a local team in the science informatics space and managing an office comprising more than 150 workspaces.  
Boasting over 10 years of experience in hospitality and operations, Andy will support with the marketing, sales and operational performance of The Catalyst. He will also be integral to the programming of events and engagement, both internally and with businesses and stakeholders across the North East.  
Andy said: "I'm ecstatic to have joined The Catalyst team and Oxford Innovation in my recent move to the UK with my wife. I'm hoping to bring a positive and upbeat energy to the role and make everyone who visits The Catalyst feel welcome and comfortable.   
"I'm also excited to work alongside the National Innovation Centre for Ageing and the National Innovation Centre for Data, as well as all the fantastic businesses based here that are part of the healthy ageing and data sectors."  
Prior to working for Accenture, Andy held various roles within the themed entertainment sector, including at the Universal Orlando Resort where he supported the smooth running of attractions and managed front line team members.   
He also worked for Holovis, an audio-visual consulting firm in the entertainment sector, where he managed the opening of its new US innovation centre in Orlando.  
Andy added: "I've gained a wide range of skills across my career that I can translate into a professional, warm and inviting office experience, and the centre team at The Catalyst have built an excellent foundation for success. 
"I'm excited to be in the UK and look forward to jumping in and hitting the ground running." 
The Catalyst is an award-winning building located within Newcastle Helix, a hybrid city quarter combining prestigious commercial and residential space with first-class research and education facilities.  
The centre is home to the National Innovation Centre for Ageing (NICA), the National Innovation Centre for Data (NICD) and a range of companies and research specialists driving innovation in data and healthy ageing. It also houses a range of events and meeting spaces, including a state-of-the-art TED Talk style theatre.  
More
October 24th 2023
Welcome, Lauren!
We're delighted to introduce our new Assistant Centre Manager, Lauren Neill, who joins The Catalyst centre team with a diverse hospitality background.
September 22nd 2023
National Innovation Centre to host first data science conference in Newcastle
The National Innovation Centre for Data (NICD) is set to host its first-ever conference in Newcastle later this month, exploring innovations in data science. The two-day Data Innovation Showcase will run from 27 – 28 September at The Catalyst, a state-of-the-art work and event space in the heart of Newcastle, […]
August 25th 2023
VR simulation company VRAI joins The Catalyst
Virtual reality (VR) simulation training company VRAI has moved to a new base on Newcastle Helix in The Catalyst.