Altair Northern Seminar – Showcasing the Latest Advancements in Digital Design Innovation
December 6, 2022 @ 9:30 am

-

4:00 pm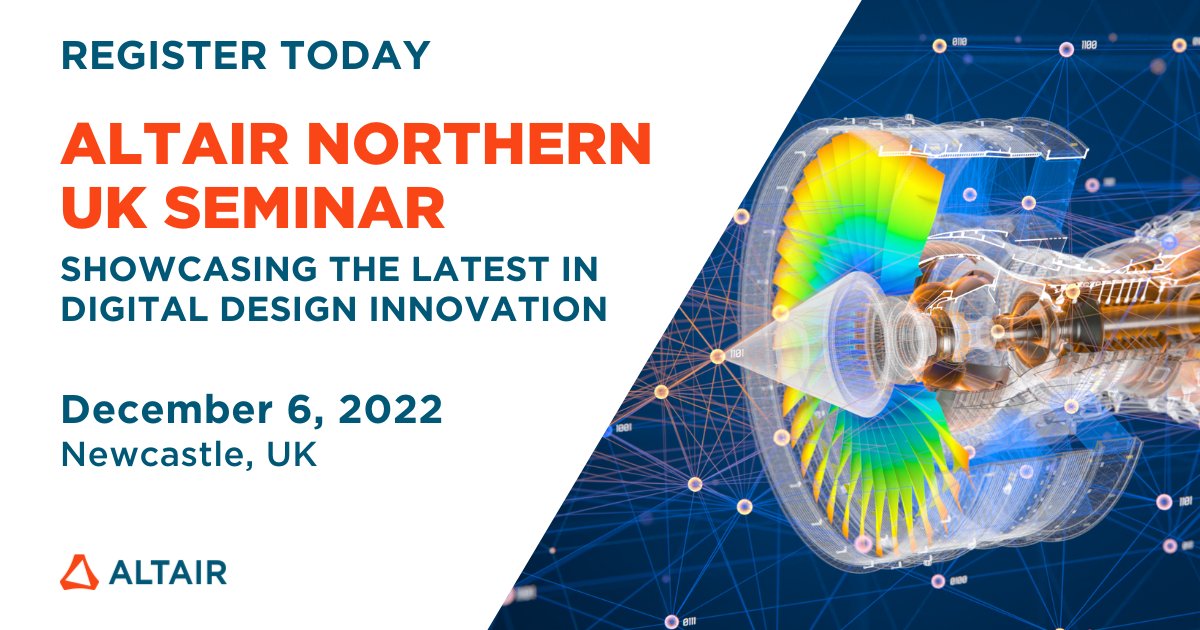 The 2nd Altair Northern UK Seminar – Free to Attend | 6th Dec, 2022 | Newcastle, UK
Digital technologies are enabling a revolution in the development of innovative, and often electrified products. Simulation and data analytics solutions are combining to create intelligent digital twins, while high performance computing (HPC) advancements are facilitating rapid exploration of designs. Understanding the latest advancements in digital technologies and implementing them effectively is key to stay ahead in an increasingly competitive marketplace.
This free to attend seminar and networking event, taking place in collaboration with the National Innovation Centre for Data, will showcase innovative applications of digital design, data analytics and HPC technologies across product development and manufacturing processes. From practical applications of data science to improve operational efficiency, to advancements in digital twin solutions to enhance performance of electrified products, the agenda covers today's most high value applications of digital technologies; all delivered through presentations, live demonstrations and interactive panel discussions.
Why Should You Attend?
Learn and network with your peers and gain practical insight into the latest advancements in digital design solutions that can be directly applied to your product development processes and manufacturing environment.
Who Should Attend?
This event is ideal for all design, engineering and operation leaders who are involved in the development and manufacture of industry leading products.