Data Insights: Is the data warehouse dead? with Waterstons
Event Navigation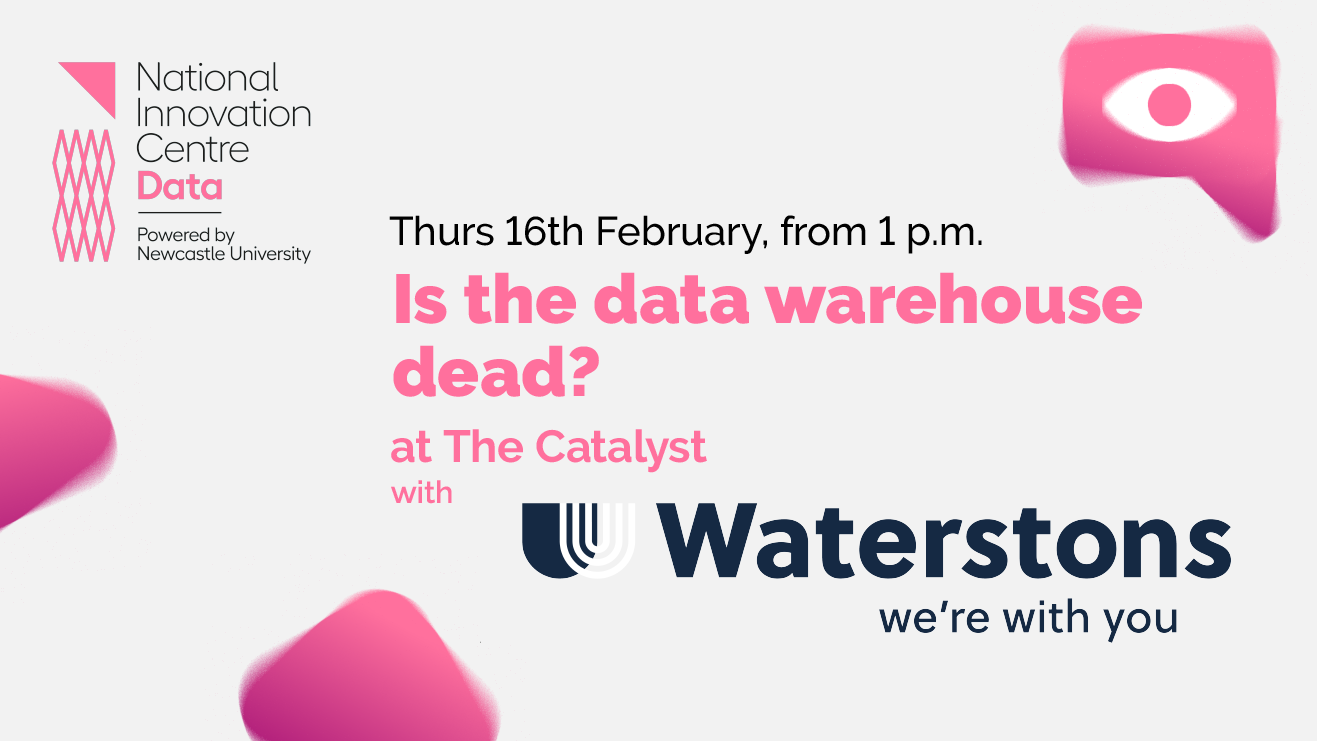 The National Innovation Centre for Data presents Data Insights: Is the data warehouse dead?, with Waterstons. 
Is the data warehouse a thing of the past? For over 30 years now, IT departments within businesses have built monolithic databases that crunch data through the night to populate management reports and such. But the use of data in organisations is changing rapidly – we want to answer more questions more quickly, and we all just generally want to do more. Can the data warehouse keep up with all of this, or is it time to explore new tools?
Join the National Innovation Centre for Data and Waterstons at The Catalyst on Thursday 16th February from 1.00 p.m. for Data Insights: Is the data warehouse dead?, a timely and thought-provoking session which will investigate whether data warehouses are becoming a thing of the past and, if so, what might be next in data storage solutions for businesses.
James Bell, Head of Data and Analytics at Waterstons, will be giving the keynote, Is the data warehouse dead?, which will explore what business problems the data warehouse was really trying to solve and how they still might be relevant today. This will be followed by a workshop, Business-focussed data modelling, delivered by Hannah Francis, Executive Data and Analytics Consultant at Waterstons, which will introduce participants to the benefits of conceptual and high-level data modelling for their data activities. (If you've ever found yourself wondering how the same data on an organisation can be wildly different in two different places, then this is the workshop for you!)
Additional speakers and sessions, including one led by the National Innovation Centre for Data, will be announced closer to the time. Coffee and other refreshments will also be available on arrival and after the sessions have wrapped up.
Who are Waterstons?
Waterstons are an IT business with a difference. Although they know technology well, they're not all about technology – they're business-focussed and consultancy-led in everything they do.
Waterstons' specialist consultants work with businesses of all sizes across the North East, the wider UK, and beyond, helping them to improve business performance and deliver competitive advantage.
Agenda
The full agenda for this event will be confirmed soon, and will look something like this:
Registration opens + refreshments
Welcome + Intro | National Innovation Centre for Data
Keynote Talk: Is the data warehouse dead? | James Bell, Head of Data and Analytics at Waterstons
Workshop: Business-focussed data modelling | Hannah Francis, Executive Data and Analytics Consultant at Waterstons
Session TBC | National Innovation Centre for Data
Wrap-up | National Innovation Centre for Data
Refreshments + networking